Lawn maintenance is no longer your concern.
Kobi is 1 machine with 3 different modules: one for mowing your lawn, one for removing leaves and one for blowing away snow.
Never worry about leaves.
You want all the leaves gone during Fall? All the time? Consider it done. Kobi is totally fit for the job. Kobi will autonomously remove your leaves, to make your lawn look fresh and clean instead of –well– sad.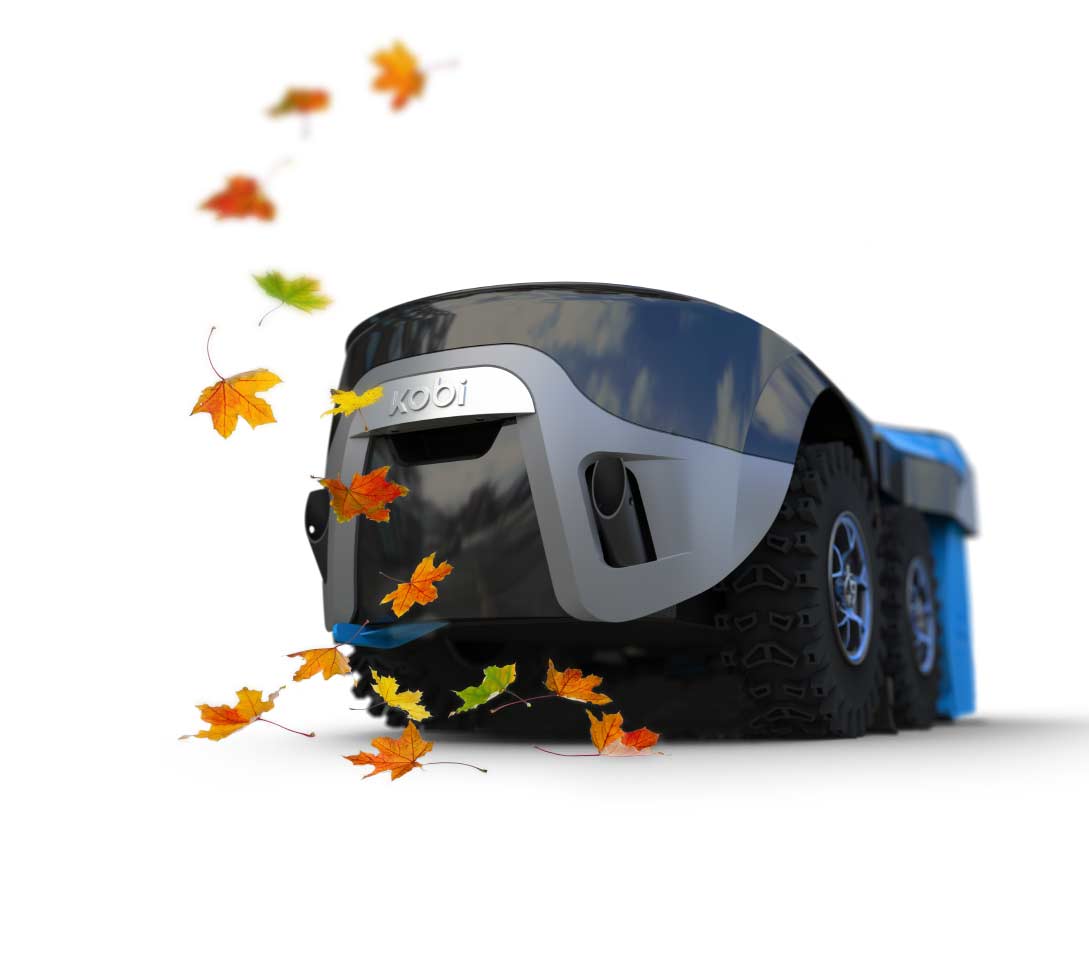 Never worry about your lawn.
Just show Kobi the outside perimeter of your property. Let it know where any fixed obstacles are located and that's it, as far as you're concerned. All the rest is Kobi's job. Kobi will autonomously keep your lawn looking healthy by mulching your grass.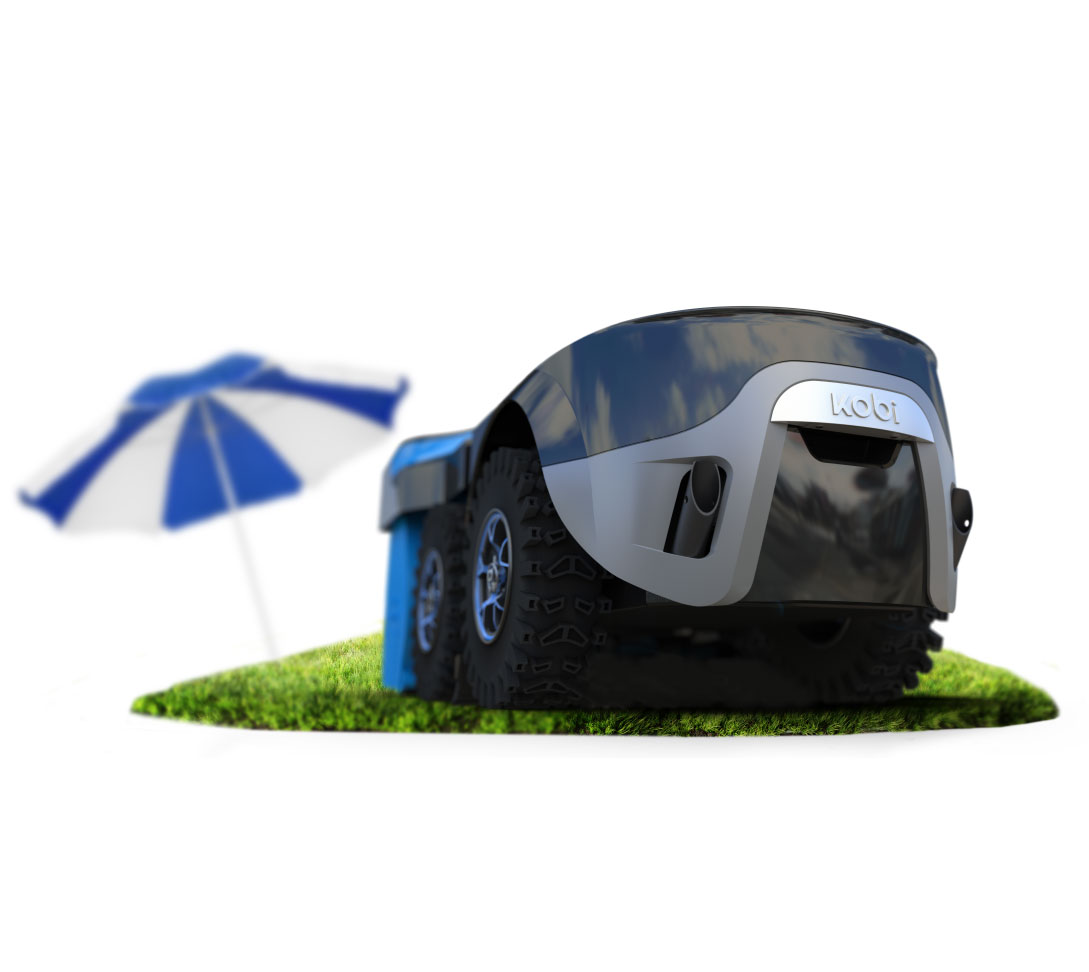 Never worry about snow.
When it comes to snow, Kobi is the true expert. Kobi is connected to, and is very interested in, the weather forecast. Kobi knows when it will snow and will even warn you accordingly. Kobi will autonomously remove the snow in small quantities while it is falling. Kobi takes a proactive approach to snow removal.
Five things you need to know about Kobi.
Tech Specs
Motors
Highly efficient and silent brushless motors
Battery
High-end and safe Lithium ion battery
Recharging
Fully autonomous recharging at docking station
Navigation
Fully autonomous – no perimeter wire needed
Speed
Up to 2 mph
Coverage
Lawn module: up to 7 acre
Leaf module: up to 3 acre
Snow module: up to 0.37 acre
Wheels
Lawn & leaf module: optional turf saving tires
Snow module: deep lug snow tires
Obstacle avoidance
Anti-theft system
Safety sensors
GPS
Control and planning through app
Wireless communication
Linked with weather forecast
Mulching (lawn & leaf module)
Mulches grass for better results and leaves to decrease volume
Throwing distance (snow module)
Automatic chute control: up to 40 feet, depending on snow conditions
FAQ
How much does Kobi Cost?
Prices start at $3,999. You can configure your perfect Kobi by clicking on "I want a Kobi".
How much snow/grass/leaves can Kobi handle?
More than nature can throw at it! Let us use snow as an example: everybody knows it is better to go out there and shovel snow in small bits while it is still falling. But let's be honest: nobody wants to go out in the freezing cold during snow to start removing snow. Kobi, however, does not feel cold and is not familiar with the concept of laziness. It goes out there and bravely starts removing snow as it falls, a few inches at a time. When it finishes the first passing, it waits for some more snow to fall, while recharging. Kobi just works smarter, in smaller quantities. So you don't need a gazillion-horsepower snow thrower.
Does Kobi need a perimeter wire?
No, Kobi uses accurate positioning, independent of a perimeter wire.
Does Kobi need potty training?
No, Kobi is domesticated. Totally.
How does the location/navigation work?
Kobi uses a combination of a high-end GPS and several sensors to achieve inch-level positioning accuracy.
How does the set-up of Kobi work?
Kobi has a training mode, to learn about the characteristics of the environment. It needs to be shown the outside perimeter of the property, and if applicable fixed obstacles. Next, it needs to know where to dump snow or leaves. After that, it basically figures out what to do independently. Just set it and forget it! Don't like setting it? No problem, we also will offer you the option to have Kobi installed for you.
Is Kobi safe?
Yes, Kobi has several sensors to detect its surroundings. It will instantly stop in case of irregularities. Do make sure to follow the safety instructions.
Can I control Kobi?
Yes, you are always in full control through the mobile phone app. You can tell Kobi when (not) to work, you can drive it around, tell it to stop and plan its next job. On its turn, Kobi will warn you about weather forecasts to help you with your planning.
Can I give feedback to Kobi?
Yes, Kobi likes feedback! You can tell it what it should have done better, so it learns and improves its performance.
What if I move to another place?
No worries, Kobi is a good boy. It can perfectly be retrained.
What if someone tries to steal Kobi?
Kobi has anti-theft detection and is protected by a pin-code. An alarm will sound, you will get a warning on your smartphone. Kobi will also go in disable mode, rendering it useless to the thief.
How does Kobi communicate?
Kobi has WiFi, Bluetooth and mobile data connectivity. The latter is independent of network provider: Kobi will always choose the strongest network in the region.
Reliable, good-looking, brawny and all yours.
If all of the above is what you expect from a gardener, than Kobi definitely is the answer. Chop-chop, go for it.
I want a Kobi