A Brief History of The Kobi Company
Good things can come out of frustrating experiences. The Kobi Company, founded in 2015 by Andrew Ewen and Steven Waelbers, is the living proof. These two former colleagues agreed that yard work was hard work. Snow blowing and lawn mowing took up too much of their time, they felt. Enter a remote-controlled snowblower, which they built in Andrew's garage in Long Island, NY.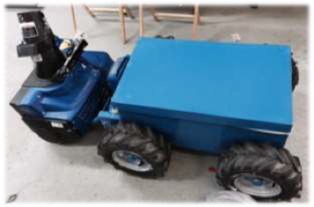 From snowblower to multifunctional robot …
Developing the prototype, Andrew and Steven thought of adding extra modules to deliver more value. They came up with a more efficient, platform-based robot that was not only able to clear snow, but also to mow the lawn and sweep leaves. Kobi, the world's first fully autonomous, multifunctional robot for year-round yard work, was born!
Kobi took off like a rocket, winning the Pitchfire competition in September 2016 at the annual RoboBusiness Expo, where it made its debut. The prototype moved on to Louisville, in October 2016, wowing visitors at the GIE+EXPO, the largest lawn and garden trade show in the world.
… and from platform-based robot to robotics platform
Though Kobi definitely has the looks, its brain would become the main focus of attention. This strategic pivot towards the underlying robotic technology was motivated both by requests from OEMs who needed a hand robotising their existing equipment and by the labour-intensive industries' shortage of manpower. Licensing the (widely applicable) core robotics technology remains our main business activity today.
Our team
There are several world-class engineers on the team with a combined 56 years of experience in robotics, electrical and mechanical engineering.
Previous experiences of the Kobi team members include working on self-driving cars, computer vision projects, a large variety of robotics applications, and much more.